I was asked to organise a Port tasting by the
Northern Ireland Wine & Spirits Institute
, and decided that it would be worthwhile to taste some wood-aged categories that are harder to find in Ireland. So, after much research and many, many emails, we ended up with the following line-up (supplier in brackets):
First pour - A comparison of some younger tawnies

Second pour - Two contrasting 20 Year Old Tawnies
Third pour - Aged Whites
Fourth pour - Older Colheitas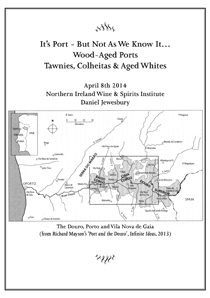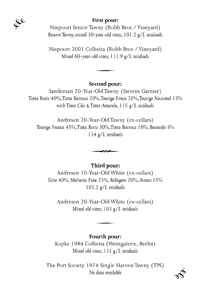 (the cover and back cover from the 'order of service'; the placemats used were the NIWSI's standard placemats so JDAW's software was not used on this occasion)
I was leading the tasting and consequently didn't take notes - but I hope that flash_uk, Justin K or Cedars28 can fill in some blanks here. Photos were taken - links to follow once these are posted on the NIWSI's website.
Much enjoyment was had, and the audience (approx 40) were very enthusiastic about these categories and styles. All of the wines showed excellently. The TPS 74 was a real revelation, very lively with some wonderful tight tannins. The Andresen aged whites were really special - wish I'd had more time to concentrate on them, but I had to talk about them instead! The two 20YOs showed excellently too: Sandeman very fresh and bright, very clearly defined and a lovely clean orange colour (with a lingering taste of orange also), the Andresen slightly darker and sweeter but still clean and fresh as well.
Thank yous are due to the NIWSI, and to Anthony Habert, Carlos Flores dos Santos, Álvaro van Zeller, and uncle tom for helping out with the wines. Thank you to DRT for loan of some beautiful copies of Forrester's Douro maps, and to Glenn E, PhilW and AW77 for thoughts and opinions on the line-up.