From the double-horizontal, 1983 and 1985, on Saturday 13 September 2008 at the home of
jfacciol
in Brooklyn.
---
Fonseca 1983: Color fairly light. Here I'm comparing it to some of the other ports of the evening - to me it bore a strong resemblance to the Graham 85 and the Nacional 85, both of which had odd candied citrus, medicinal cough syrup and children's asprin qualities on the nose. The Fonseca 83 had some of these characteristics as well, but a more spicy quality dominated - flavors of cinnamon and nutmeg could be found. Very good.
---
Fonseca 1983: darkish translucent red. Nosing of coffee, plums, cherries, and ED rightly said cinnamon. Soft to the mouth, with some heat, and great length. At its plateau: no need to wait longer. Enjoy your stocks of F83 over the next decade.
---
Sorry about not giving a T+0,
this was decanted only 2 hours before the tasting because I've found that F83 in particular doesn't do well with long decants.

This was voted the wine of the night.

I agree it's ready to drink now.

I found the cinnamon and nutmeg from memory, with a spiciness going down. I'll have to find my full notes when i get back home though.

A slightly fruitier and fuller body then it's 1980 sibling.
Disclosure: Distributor of Quevedo wines and Quinta do Gomariz
---
Martinez 1985
Posts: 1292
Joined: 07:45 Mon 18 Feb 2008
Location: NJ & NY
Dark for a 1983, this Fonseca had an almost floral nose with a hint of underlying vegetation. Its tastes of chocolate, woods, brandy and spirits, finishing with a bit of spice, make it an interesting and nicely balanced wine as its flavor lingers on. (94, drink -- i'd say keep but it was ready after only 3 hours of decanting, may be peaking.)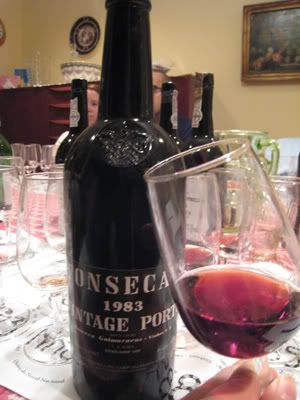 SushiNorth
Port wine should perhaps be added -- A Trollope
---