We went to
the Vaults
, in Leith, the HQ of the Scotch Malt Whisky Society. We brought with us a bottle of D63 which was bottled in the same building in 1965 by J. G. Thomson. Some excellent drams were also consumed, and Andy Murray obliged by winning Wimbledon.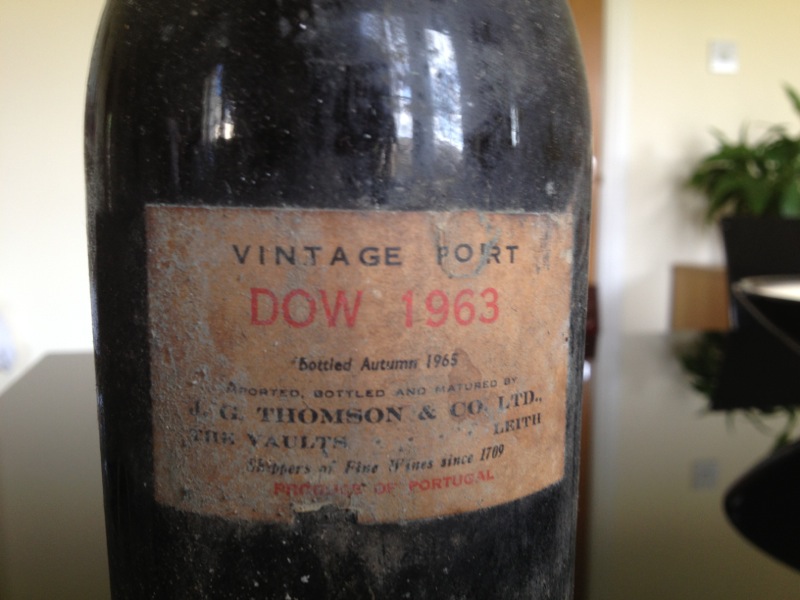 Other images (bottle, capsule, sediment, cork, plus some rather nice atmos of the Vaults)
here
.
There was no opportunity to let this stand for a long time before decanting as it was brought from Belfast (where it stood for a day prior to departure). Decanted 10 am.
D+6.5:
A burnt orange or blood orange colour, deep at the core (light bricked ruby) but fading quickly to light orange and a broad clear rim.
The nose was of jellied fruits.
The entry was extremely soft and round, again like jellied fruits, or very ripe, fleshy plums. Not at all brambly or jammy.
This gave way to a green, minty bitterness that was not at all unpleasant; it gave some structure against the fruit, which was too soft on its own. The finish was long, with white pepper and very light tannins.
Wonderful.
After an hour and a half, this showed some stronger acid, which had been more masked earlier.
All who tasted (including the two SMWS bar staff) agreed that this was a very very good port.